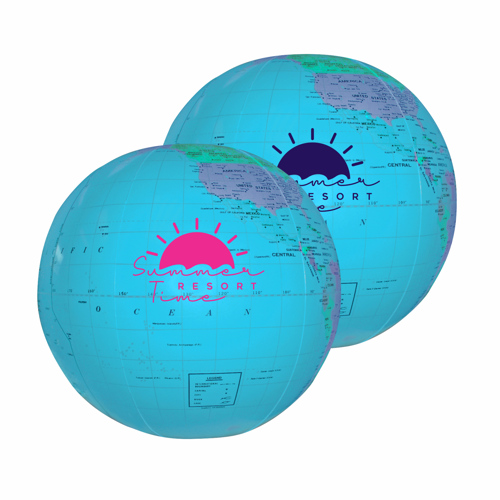 Globe Beach Balls
(For the Sports & Beach Ball Display Page, Click Here)
Globe Beach Balls. Price Includes One Standard Color Imprint, One Side
Qty.

100
(min. order)

250
500
#GB12 - 12"
Colors Available: Blue (specify color in your order)
Imprint size: see below

$2.66

$2.51
$2.46
#GB12-Clear - 12"
Colors Available: Clear (specify color in your order)
Imprint size: see below

$2.66

$2.51
$2.46
#GB16 - 16"
Colors Available: Blue (specify color in your order)
Imprint size: see below

$3.04

$3.00
$2.95
#GB16 - 16"
Colors Available: Clear (specify color in your order)
Imprint size: see below

$3.04

$3.00
$2.95
To place your order, click here.
Multi-color imprint available.
(Additional color imprint, see below)
NOTE
: Beach Balls are measured fully inflated from
pole to pole. Globe Beach Balls may not be correct or accurate. Color of balls subject to change.
Our Standard Inks (stock colors):
Select your imprint color from this chart
Black, White, Silver, Orange 1665, Brown 469, Gold, Yellow 107, Dark Green 343, Green 328, Teal 320, Baby Blue 292, Navy Blue 281, Royal Blue 2728, Purple Violet C, Pink 211, Burgundy 209, Red 186.
Pantone Color Match (PMS): Add $40.00 per color.
NOTE: Beach Balls are measured from one pole along the curve to the other pole. Dimensions are approximate.
CUSTOM ARTWORK/LOGO/: Please provide ready artwork in vector format 300+ dpi and email it to us in (.eps, .ai, .pdf) files. To EMAIL your artwork to us, click here.
Pantone Color Match (PMS): Add $40.00 per color. Exact color match can not be guaranteed.
Set-up (screen/ plate Charge): Add $40.00 per color, per design. One side imprint only
Recommendations: Please indicate which color globe on your order. Do not inflate using air compressor.
Requirements to prepare and/ or to e-mail artwork to us, click here.
PROOFS: If requested, add $12.00 for email/fax proof of your logo, text, or both. Any author's alterations made after the proof has been sent to you, click here for artwork modification/ preparation.
NOTE: If the artwork you submit to us needs to be redrawn, fixed, or typesetting, please click here for artwork charges.
SPEC SAMPLES: $50.00 for 5 beach balls with one color, one side imprint per item #. Each additional color and side $50.00.
PRICE FOR BLANK (WITH NO LOGO) GLOBE BEACH BALLS:
GB12 - $2.40 each. GB16 - $2.80 each.
(Minimum order for uniprinted balls, $100.00) and are shipped within two working days.
Random samples $9.50 each to cover cost & shipping.
For more beach balls, click here